Google has recently celebrated their 15th anniversary of Google Trends, which believe it or not – was first released back in the year of 2006.
According to Google:
"Though [Google Trends] data goes back to 2004, it became available two years later. This summer, Google Trends turns 15, so we thought it would be the perfect time to look back on trends of yesteryear and compare what people were searching for back in 2006 to today."
Initially, the experimental version of Trends was developed with the idea in mind of pointing out ways people could use data to look at things such as ice cream flavour popularity or how much people searched for certain politicians. Since then, Google Trends has positioned itself as an important resource for people across many different professions and industries.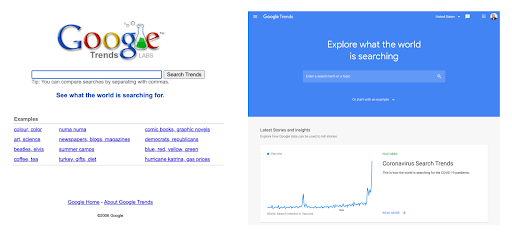 If you're looking to increase your proficiency with the app, Google has also published a list of key tips on how you can better use data from the application.
Google Trends: 15 Years of Data
Take a look at Google's comparative search trends from 2006 vs 2021 below: